Our trip to Kauai was amazing. I almost wonder if we had more fun this time around than on our honeymoon. I had to get a picture of the wild chickens that are running around all over the place.
Joe and I went to some fabulous beaches. The great ones require a little hiking, but are so worth it!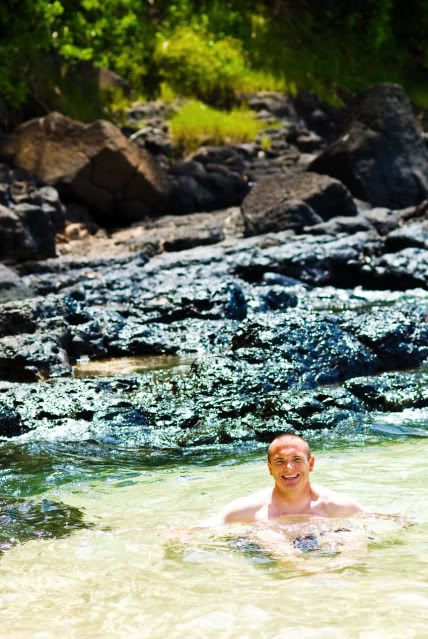 Joe named this place, "McKenzie's bath" - not that I bathed in it or anything - he's just so darn funny!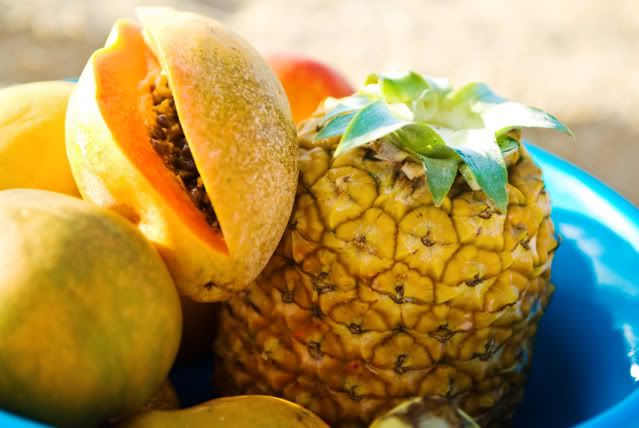 We visited a farmer's market and picked up as much fruit as we could, then bought a bowl and a paring knife and headed out to Polihale to watch the sunset while shoveling fruit into our mouths. It was so good!!!!!!
All the fruit was picked either that day or the day before.
I was so frustrated when we hit the local grocery store to buy some fresh fruit, and it had stickers on it saying that it was imported from Mexico!!!!! I was so relieved to find the farmer's markets! That's where the good stuff really is!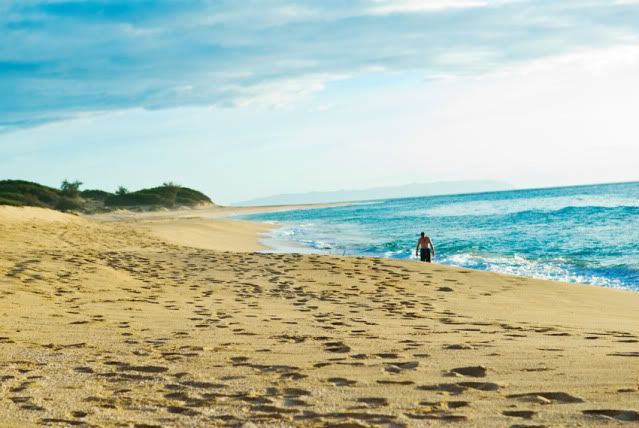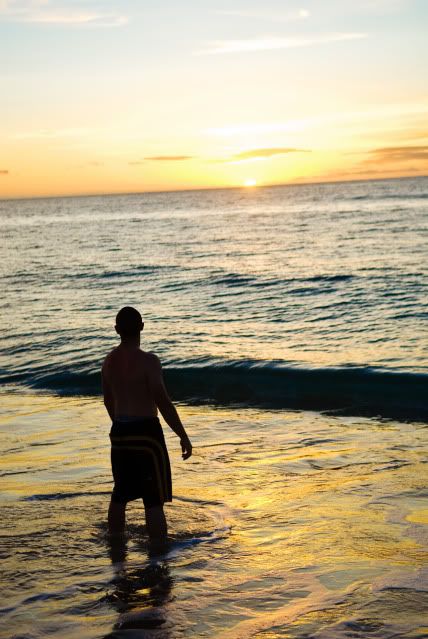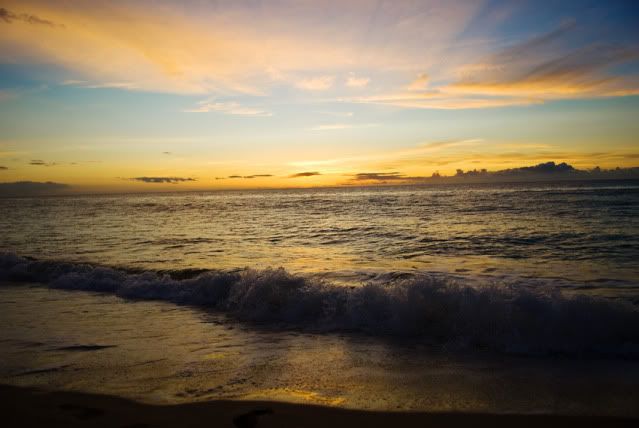 The sunset was great and the beach was deserted - it was so gorgeous!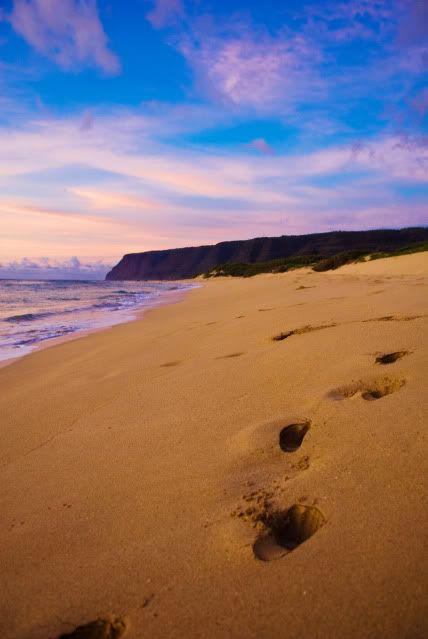 We also hit "Secret Beach" which used to be a nude beach, but now the police supposedly hand out tickets for nudity.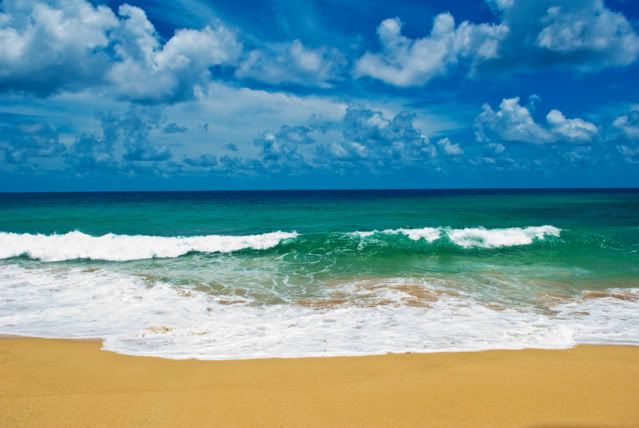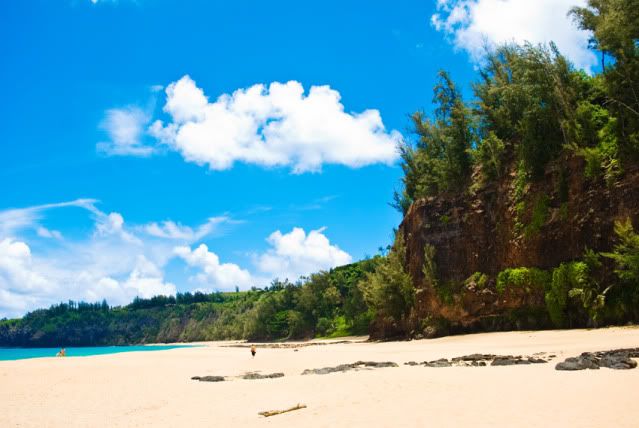 We walked down to find our own little spot next to a huge cliff that had a fresh water spring coming out of the side of it. It was a great place to set up camp for the day, but I never expected that to be the spot that crazy nudists like to rinse off!
Lukily, Joe and I were down trying not to kill ourselves in the crazy waves when the "desperate to be naked in public" people showed up next to our towels. It wouldn't have bothered me so much, except for the fact that my camera was up there right next to them. Seriously, they were practically standing on top of our towels. So, I was having a little fit, stuck in the waves since I didn't want to go anywhere near the 2 naked couples, hands on hips, pacing back and forth in hopes that they would notice that I was watching them. Did they kindly put their clothes back on and go away? NO! They probably though it was funny that I was so stressed out, but was it really necessary to just stand there "air drying"? And was it necessary for that one guy to do a little shimmy at me with his towel?
Joe became quite the fruit critic after a few days of hitting the farmer's markets.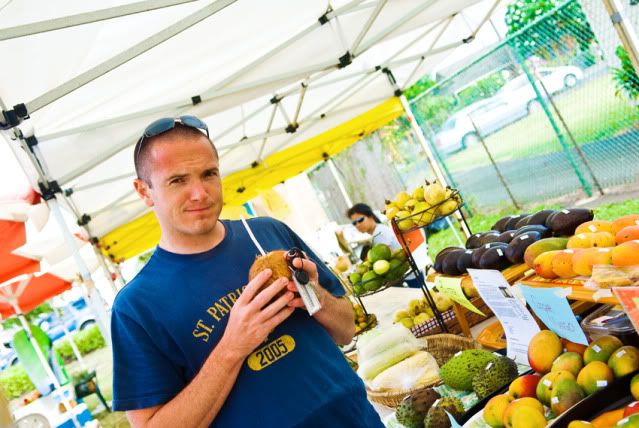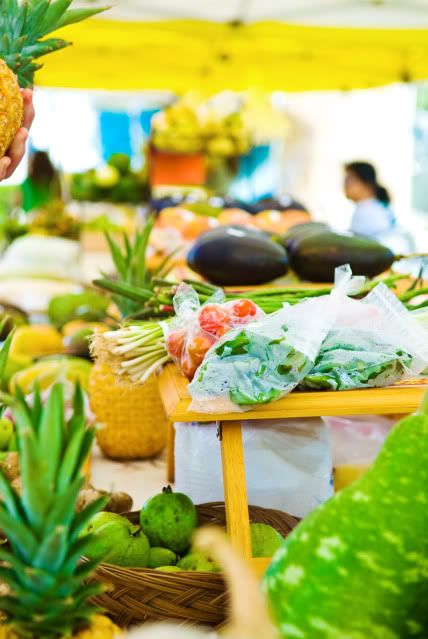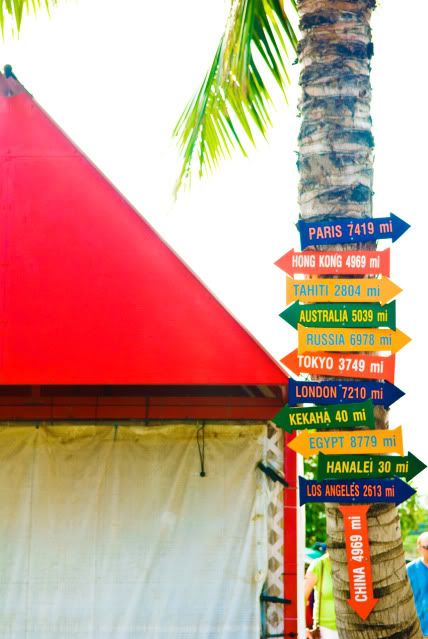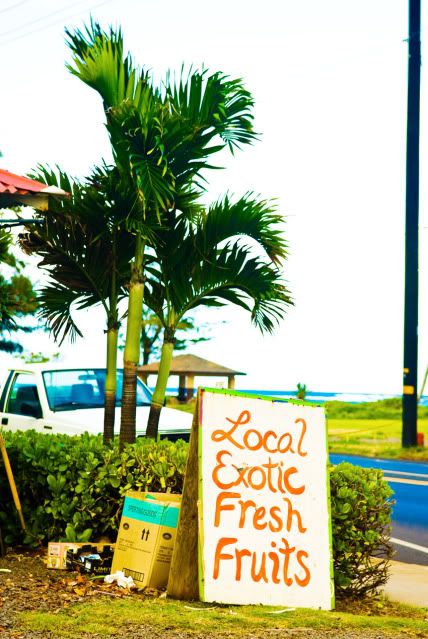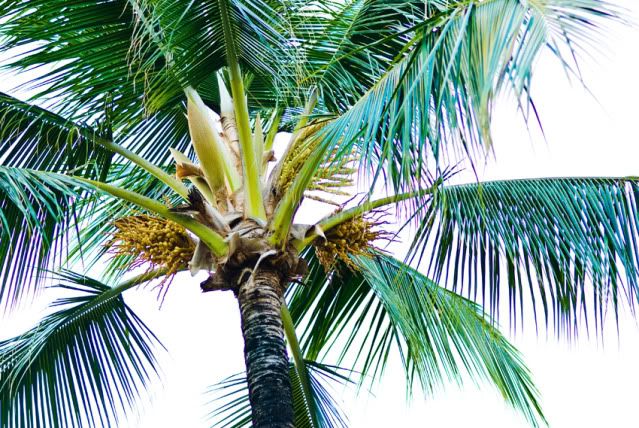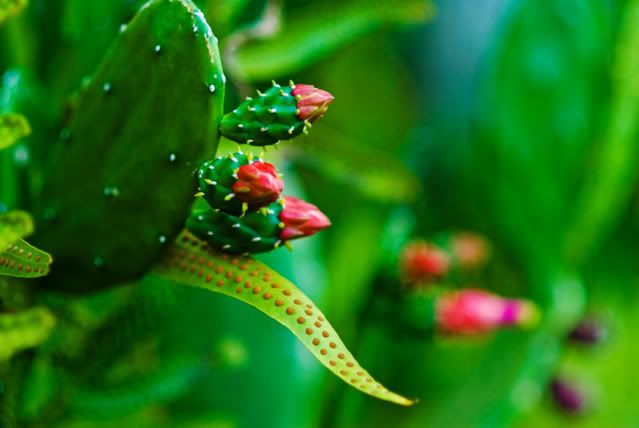 I thought it was so funny to see the Hawaiian way of fishing. Apparently, they have better things to do than watch the fishing poles.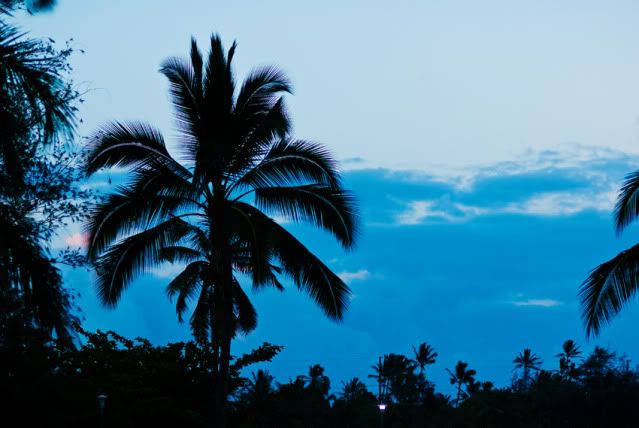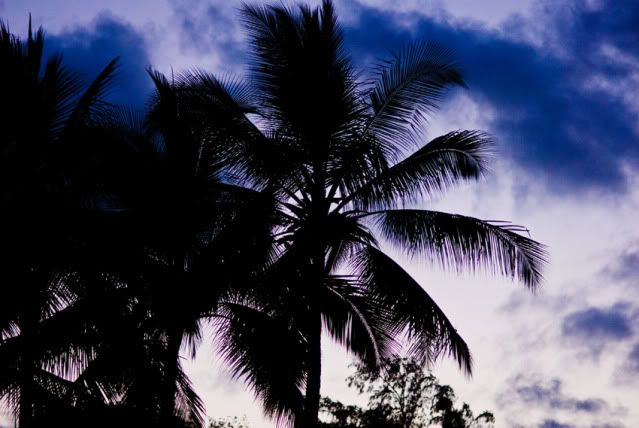 I just love palm trees.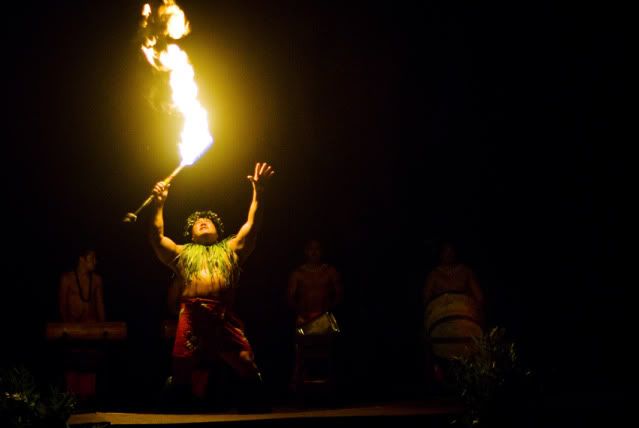 We also hit a Luau - of course!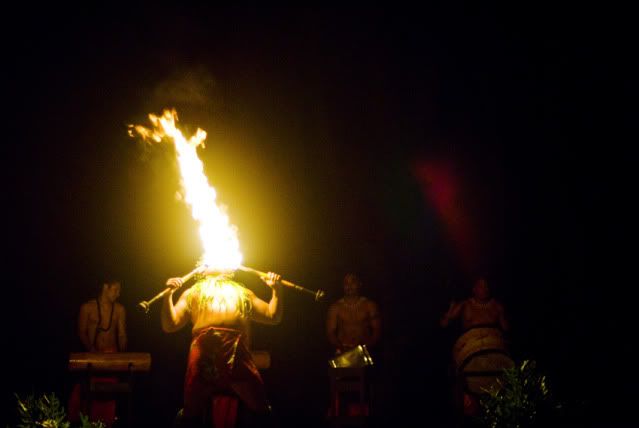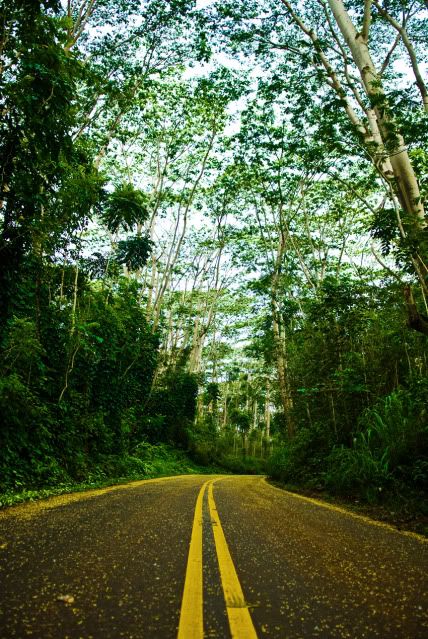 This was the road up to the place we were starting our big hike through the tunnels that lead to the North Shore.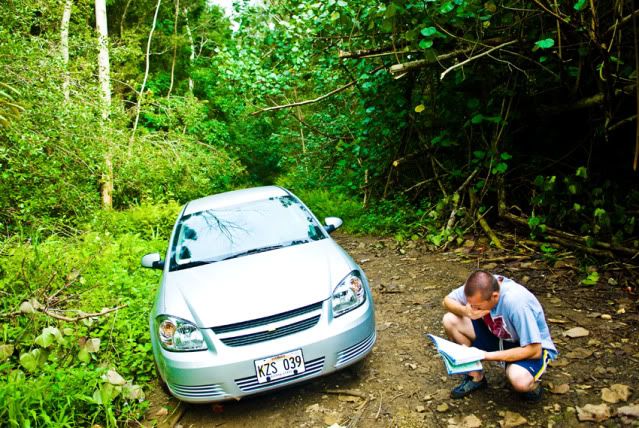 After a false start, Joe consulted the directions to get us back on track.
This is where we were hiking. I decided against taking my camera since I could barely walk through the 5 inches of sticky mud. The trail was so different from when we did the hike on our honeymoon. Half of the time the trail was covered over with raspberry-like bushes that were pretty pokey. There were spots where you have to hold onto tree roots to get across a spot where the trail and mountain had dissappeared. 10 years ago, this hike took us more than 10 hours, and although it was so much harder than I remember, and we're 10 years older, I am happy to report that it took us only 9! After about 4 hours of hiking, we were up on a little hill in the middle of nowhere with nobody knowing where we were, and we heard the scariest thing I've ever heard in my life! If you've ever seen LOST on TV, you'd know what we heard! It was 2 wild boar fighting to the death or a boar hunter stabbing a boar over and over again. It was coming from the bottom of the little hill -- way too close!! Joe took a fighting stance and later admitted that at that moment he was ready to turn around, and I climbed into the nearest tree to try to be a few feet up and out of reach from the crazed wild boar that was sure to come and kill us! If you didn't know that there were wild pigs all over the island, you wouldn't know what it was because it was so incredibly scary! Anyway, so when we got inside the tunnel, I didn't expect to have a little clausterphobia or a small panic attack, but I am certainly not tougher in my old age! All I was thinking was, "What if we're the people that this mountain decides to crush?!?!? What will happen to our kids?!?!?!" It took a very long time for me to get control of my heart! I also didn't remember the tunnels being so long. I know it's over a mile of tunnels you walk through (with 2 feet of water in the bottom), but it lasted so long! I remembered that the last tunnel you go through makes you crawl since it's so small, but the end of it was only a foot and a half tall and maybe 2 feet wide! We had to army crawl in the mud to slide out of it, but it was gorgeous when we got there. On the way back, I stepped on some sort of sharp thorn that stabbed it's way through the bottom of my shoe and all the way into my heel! It had to go pretty deep to make my heel bleed like crazy! Joe didn't really like it when I said "Oh, this is just paradise!" sarcastically, but I couldn't help myself. Anyway, my heel got swollen and I could walk on it until the day after we got home from the trip - so I looked so AWESOME limping around the rest of the week!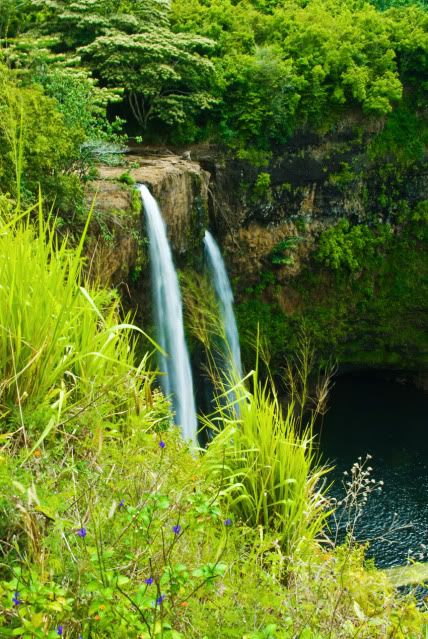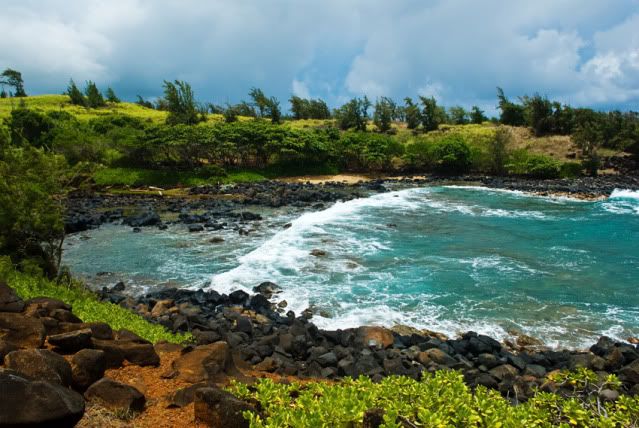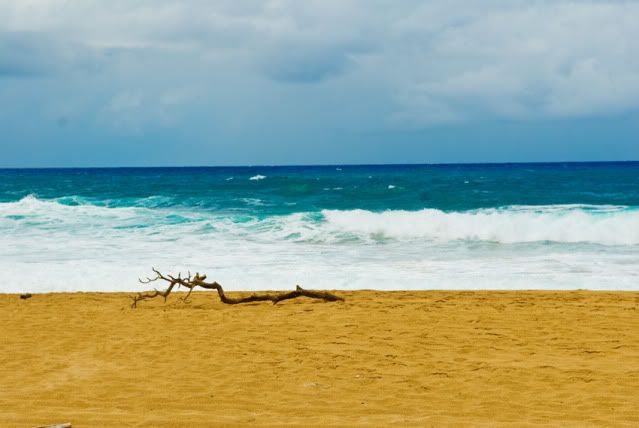 This was my favorite beach I think. Probably because there is nothing as relaxing as falling asleep on the beach with nobody around!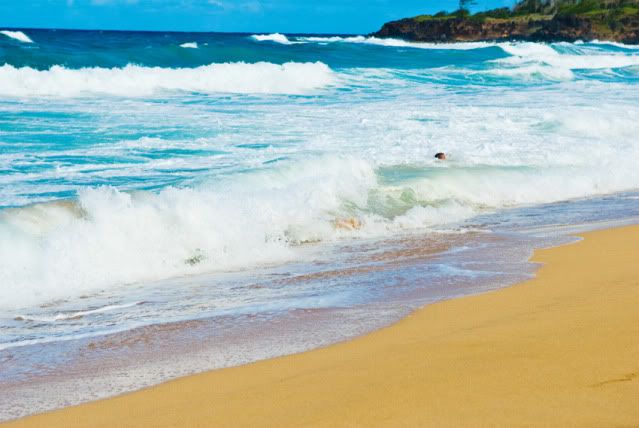 Or maybe I loved it because the waves were so crazy that they sucked us down the beach. Really, a person could just sit down on the beach and the waves could push you up the beach 15 feet, and then pull you right back down! Isn't Joe's form nice?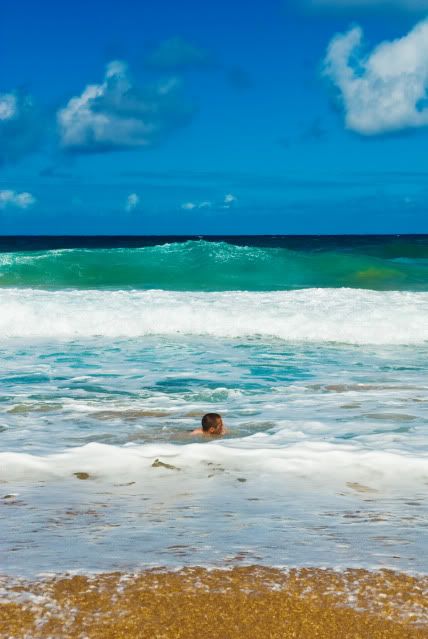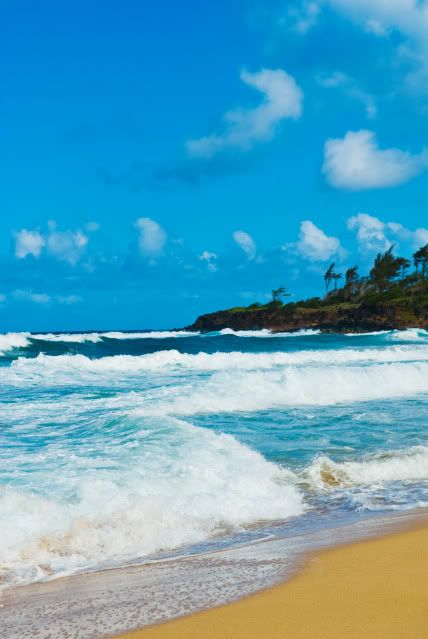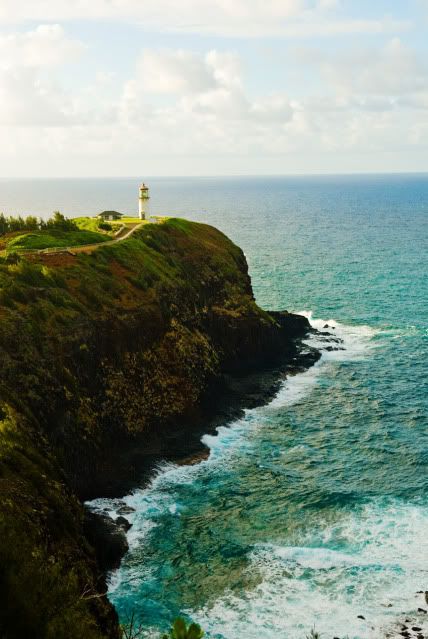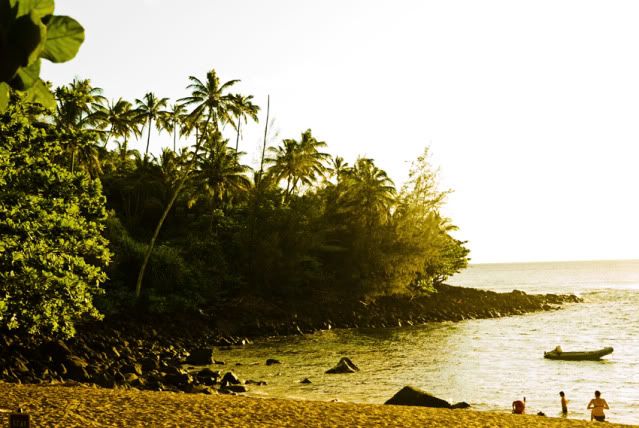 We snorkeled for a little while at Ke'e beach during the sunset.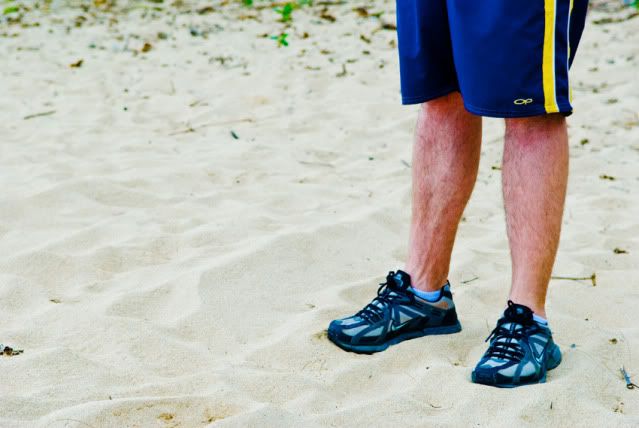 I had to look at these horrible shoes on the beach all week. Joe doesn't do flip flops while that's pretty much all I wear all year long. It just doesn't look right!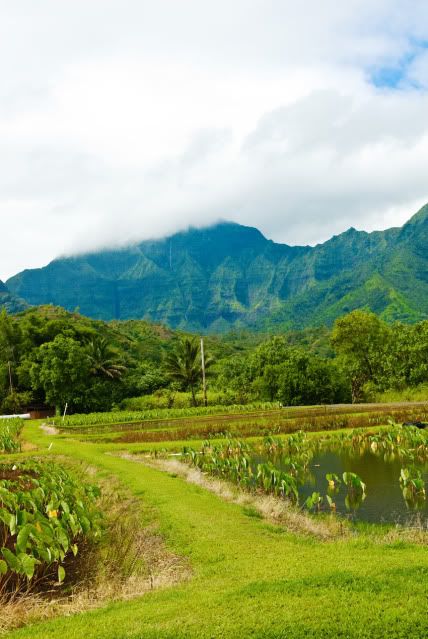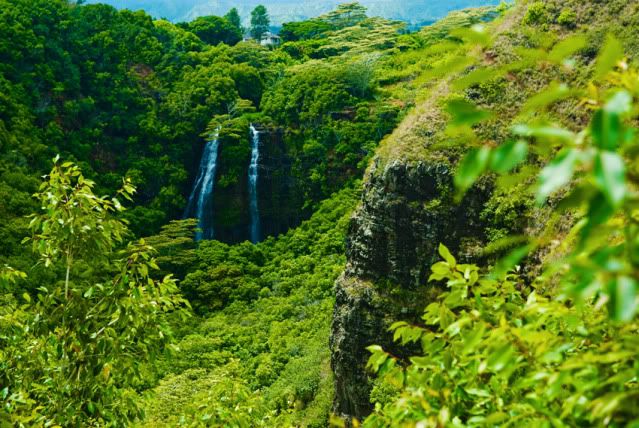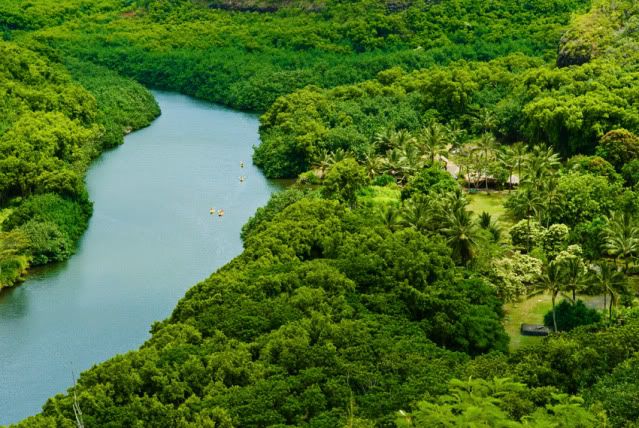 Isn't that little Hawaiian village cute?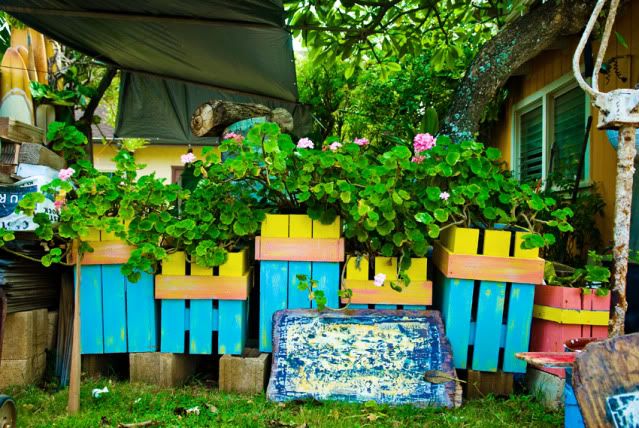 On our last day, we ran into Ambrose. He runs his own store that makes surf boards. What a great place and his surf board were so gorgeous! I was just drooling over all the color!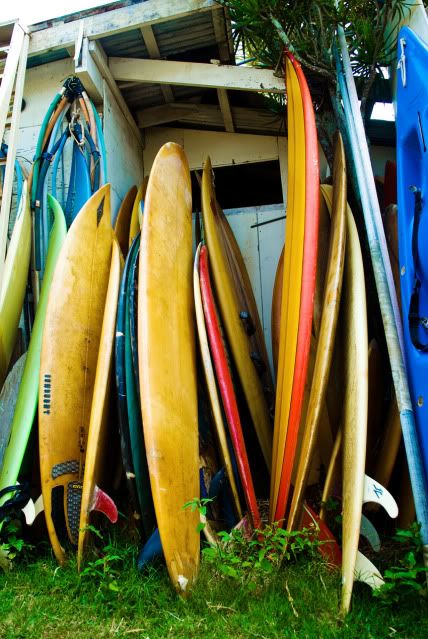 He was so nice to let me take some pictures.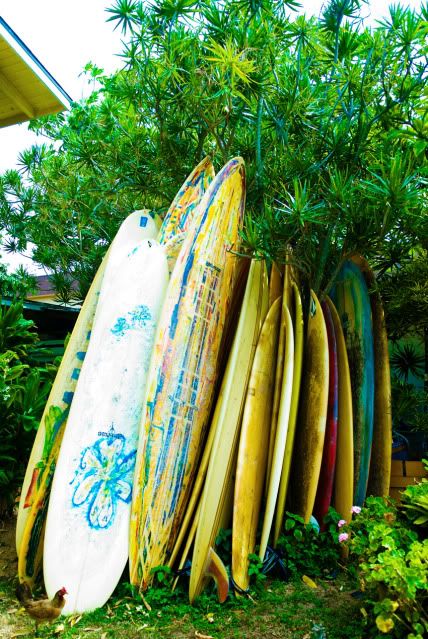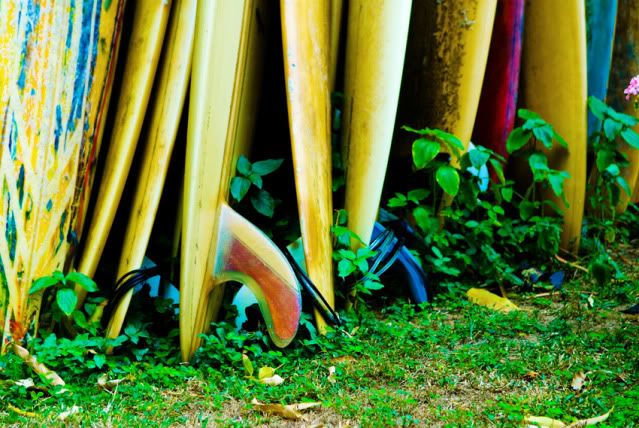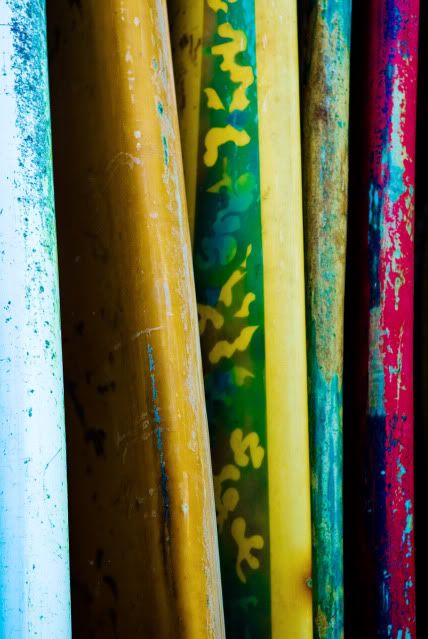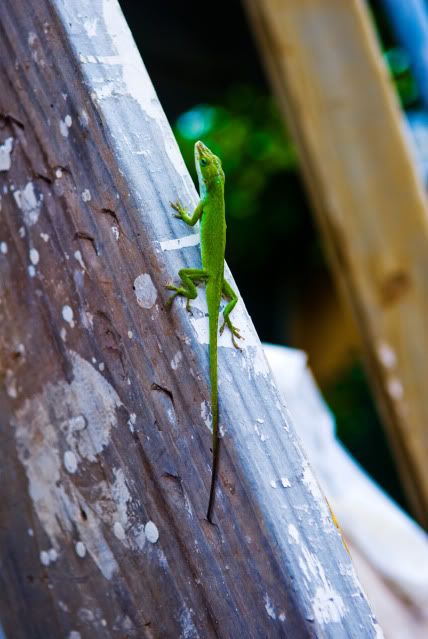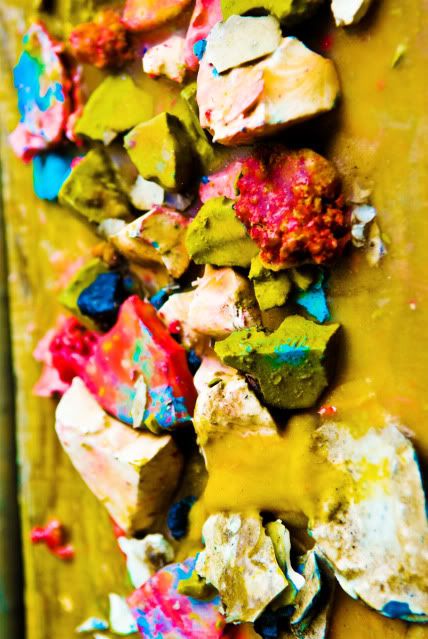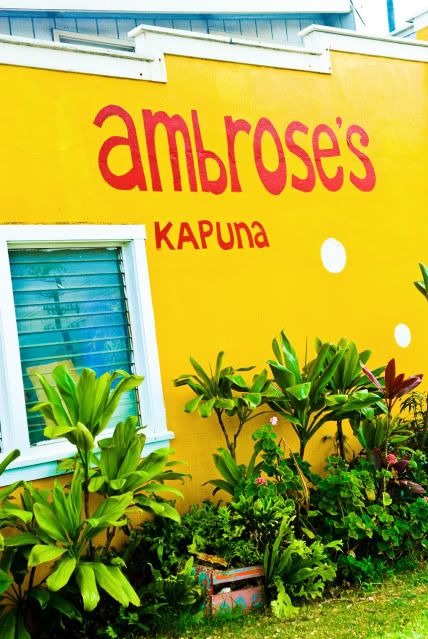 So, Thanks, Ambrose!!! We really love your shop and your mangos were the BEST!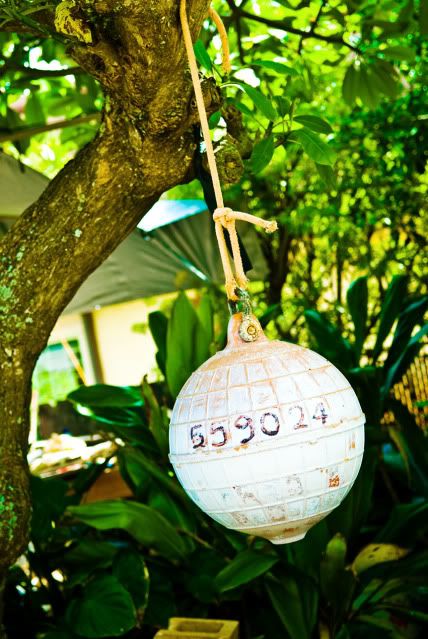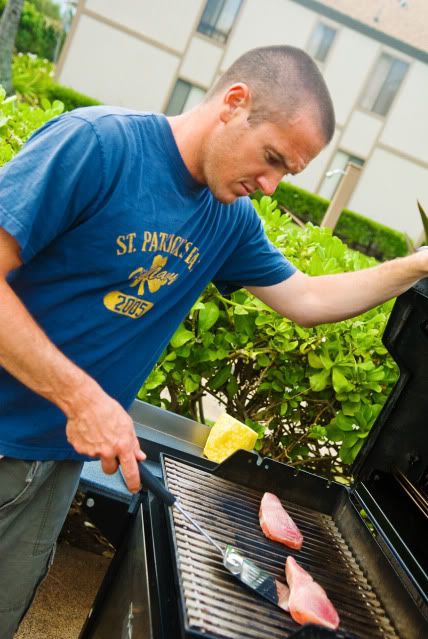 We also took advantage of all the fresh fish and barbequed for our last meal!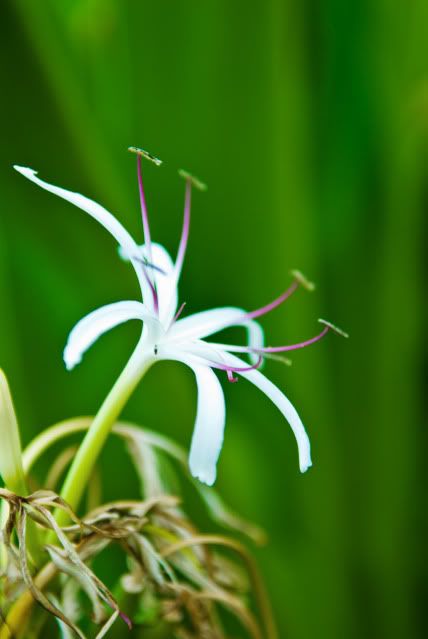 What a great trip and what a great 10 year's it's been! I love you, Joe!