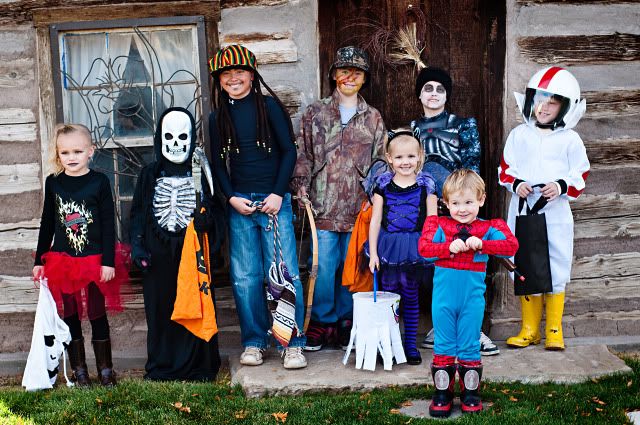 It's a tradition -- every year, we meet with as many friends as we can to take a picture in front of the old pioneer cabin in Morgan before all the trick-or-treating begins. It's turning into a fun thing I look forward to seeing every year - just like the picture of when the kids go to the mall and sit on Santa's lap. It's a picture that is so fun to look at year after year to see how everyone is changing and growing. It will be great for embarrassing them and their friends when they're older!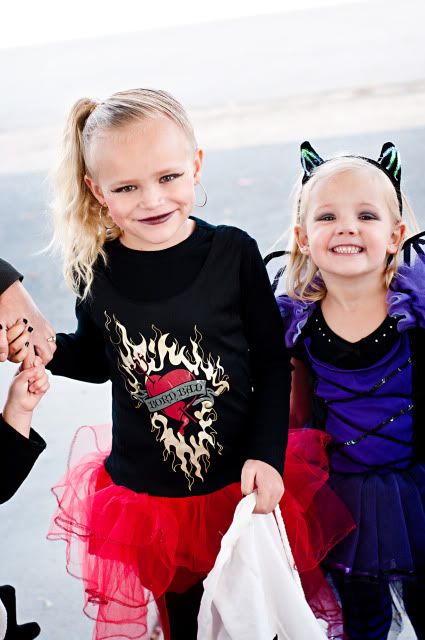 Chloe was a rockin' bat this year. I tried so hard to steer her towards all the gorgeous pettiskirt-princess creations on etsy, but when she saw this outfit, it was love at first sight for her. The purple and black striped tights really rocked her world!
Notice the broken wing? That's because we LIVE for Halloween around here and have to try things on for everyone that comes over to our house!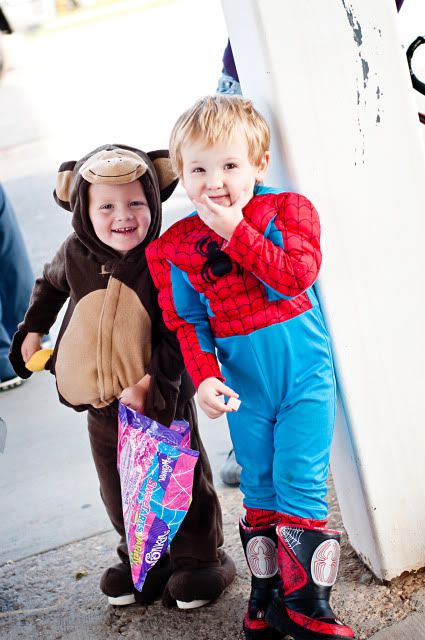 Jake is so in love with all the Spiderman movies (just like Sam was!), and had to have the outfit with all the muscles so he could "punch all da bad-guys in da face!"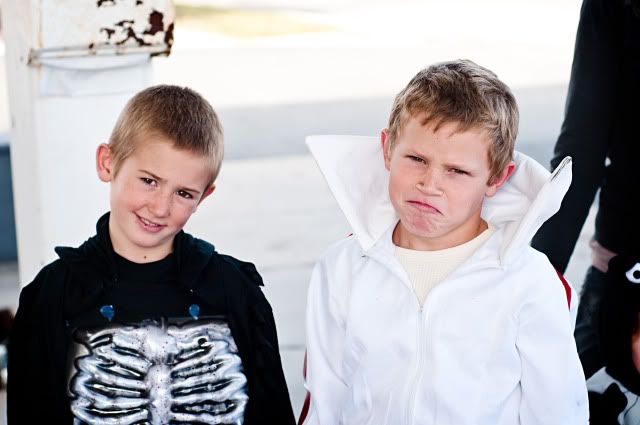 Sam went for scary and a little bloody with the Grim Reaper costume, and Colten took off with his friends as soon as we finished with the first picture - so I didn't see him the rest of this night! He was a hunter that got mauled by a bear. Lovely.
If I could wear a costume everyday, all day long, it would be just like Jake's Spiderman costume. He LOVES it! Can you tell he feels awesome?!?!
I love how Morgan is so safe, and how the whole community comes out to see everyone and to trick-or-treat at all the businesses. It's one of my favorite days of the year (and this year, it wasn't even on the actual trick-or-treating day - which rained like crazy!).
Chloe's preK teacher found us - she was all dressed up like Mrs. Potato Head! Chloe LOVES her and going to preK!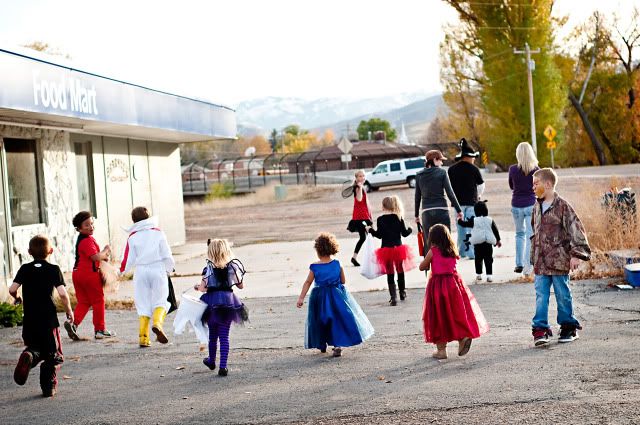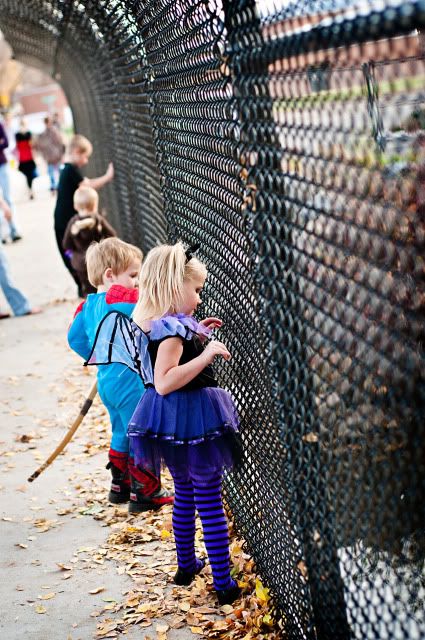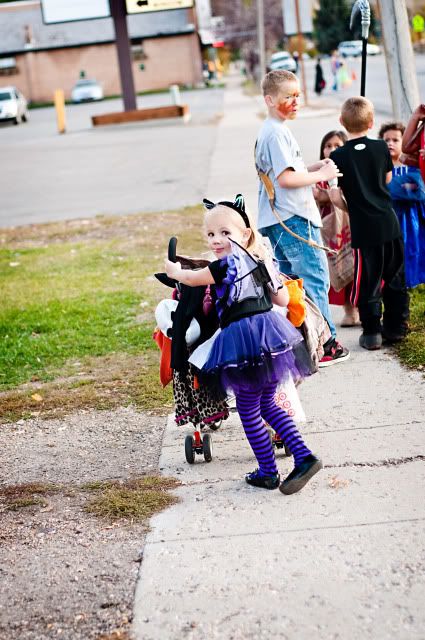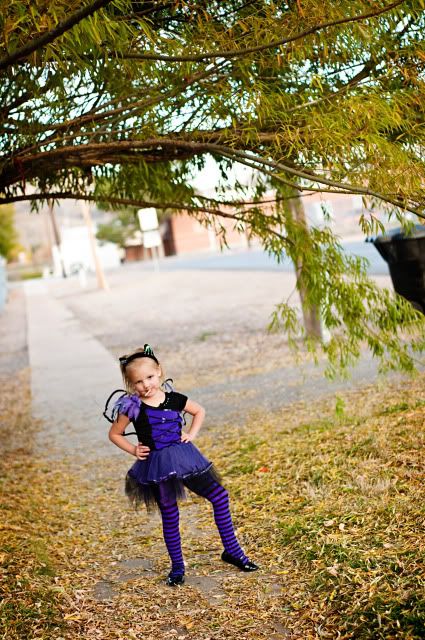 This is Chloe's new pose she does for me whenever I have the camera around my neck. Lovely, huh?!?!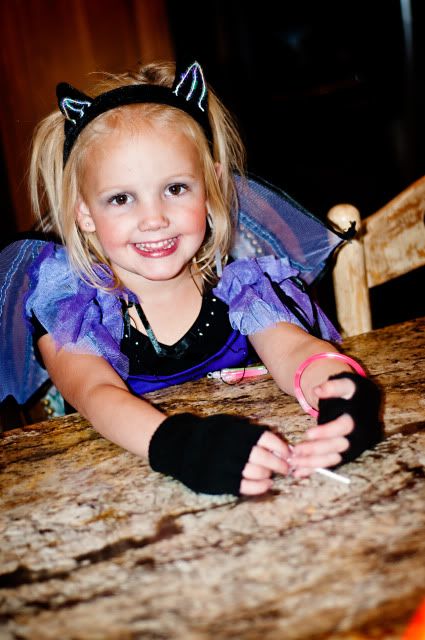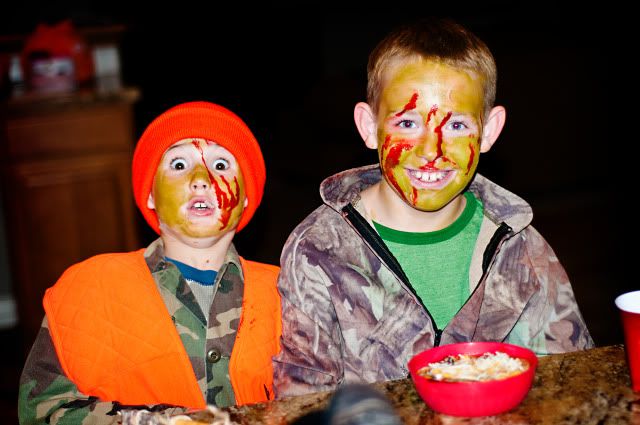 This was the actual Halloween night - so dark and cold and rainy! It was such a switch from the day before - which was gorgeous! Sam needed something a little warmer - so he got mauled by a bear, too!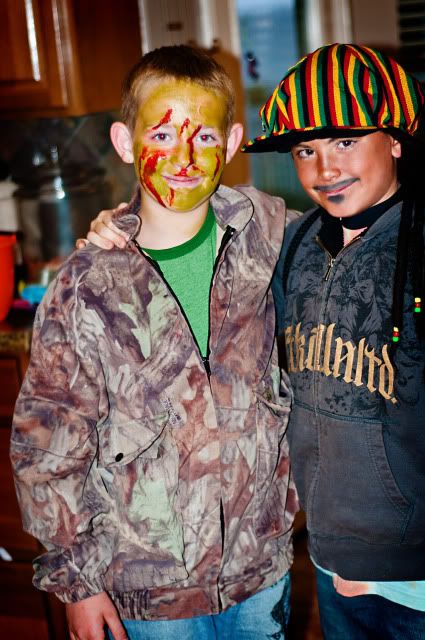 Trey Miles came over to go with us. He looked pretty natural as Bob Marley! We downloaded a few songs of his to get the kids fully educated on what to be singing that night for Trey!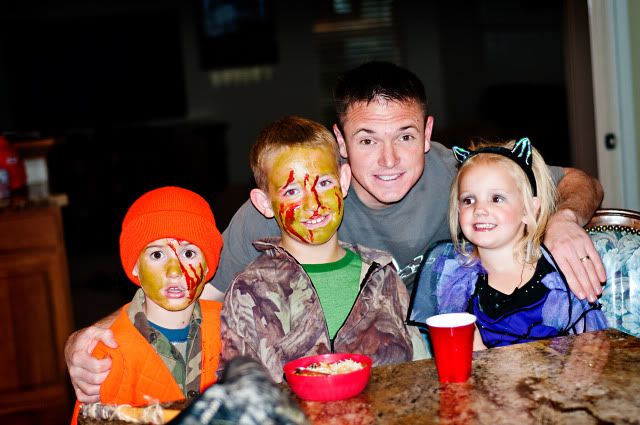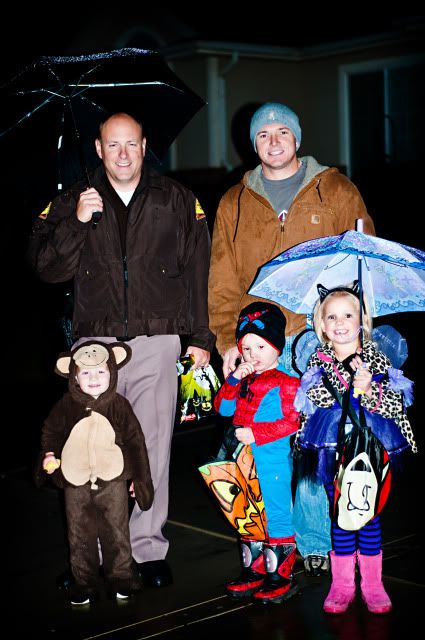 We joined up with Jake's little buddy, Jack - so they could figure out the whole trick-or-treating thing together. At first, Jake wasn't too sure about what was going on - the rain was just so distracting, but as soon as he realized that he got candy at everyone's front door, he was off! Nothing could keep him from those doorbells, and he LOVED the haunted house/porch!!! It was funny!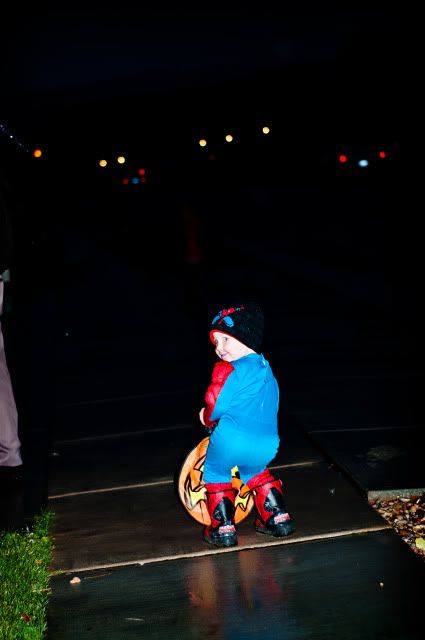 For some reason, Jake kept showing me his bum! He wouldn't walk until I took a picture of his "cute bum!" So, does this mean that I pinch it too much these days?!?!? He's got a GREAT opinion of his little body and his "cute bum"!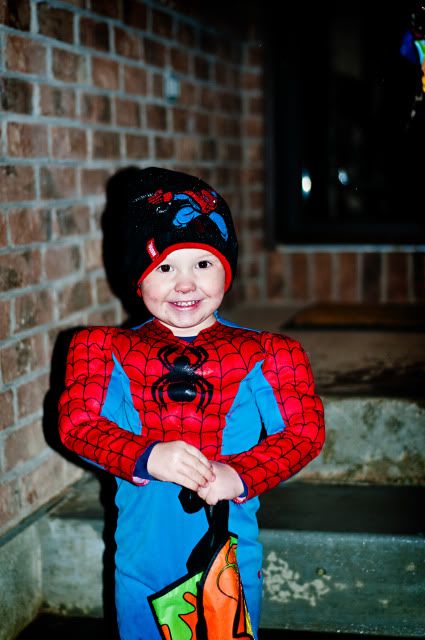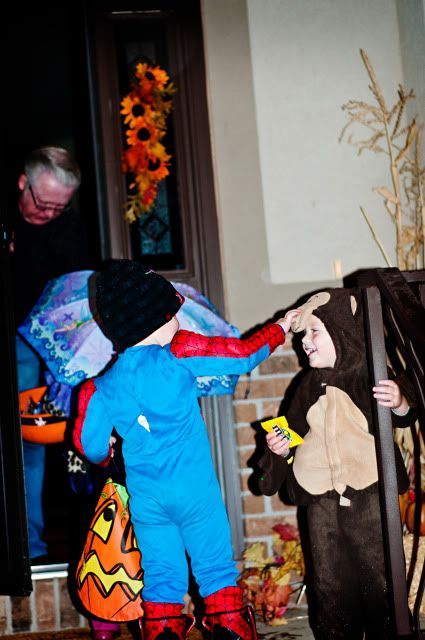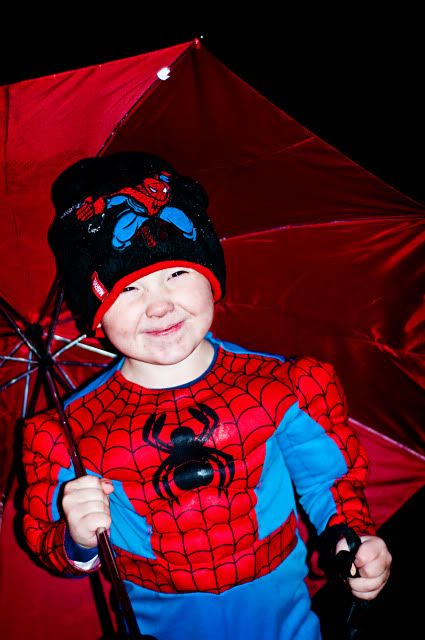 I love Halloween! It's so fun to see the kids getting all dressed up and everything! My older boys are getting to that age where they just run off with their friends, but I feel a lot safer having them up here in Morgan where there's almost no crime. We always find them . . . eventually!